Even as harmful as psychiatry's (so-called) antidepressants and lithium and (so-called) antianxiety agents (or minor tranquilizers) are, they are nowhere near as damaging as the so-called major tranquilizers, sometimes also called "antipsychotic" or "antischizophrenic" or "neuroleptic" drugs. Included in this category are Thorazine (chlorpromazine), Mellaril, Prolixin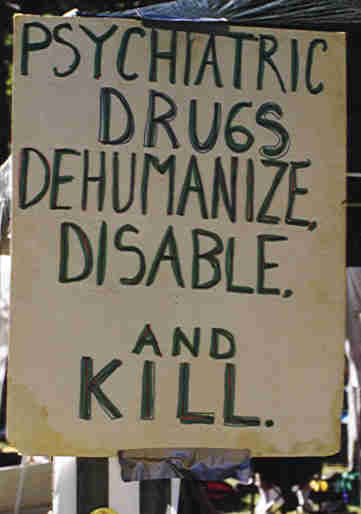 (fluphenazine), Compazine, Stelazine, and Haldol (haloperidol) - and many others. In terms of their psychological effects, these so-called major tranquilizers cause misery - not tranquility. They physically, neurologically blot out most of a person's ability to think and act, even at commonly given doses. By disabling people, they can stop almost any thinking or behavior the "therapist" wants to stop. But this is simply disabling people, not therapy. The drug temporarily disables or permanently destroys good aspects of a person's personality as much as bad. Whether and to what extent the disability imposed by the drug can be removed by discontinuing the drug depends on how long the drug is given and at how great a dose. The so-called major tranquilizer/ antipsychotic/neuroleptic drugs damage the brain more clearly, severely, and permanently than any others used in psychiatry. Joyce G. Small, M.D., and Iver F. Small, M.D., both Professors of Psychiatry at Indiana University, criticize psychiatrists who use "psychoactive medications that are known to have neurotoxic effects", and speak of "the increasing recognition of long-lasting and sometimes irreversible impairments in brain function induced by neuroleptic drugs. In this instance the evidence of brain damage is not subtle, but is grossly obvious even to the casual observer!" (Behavioral and Brain Sciences, March 1984, Vol. 7, p. 34). According to Conrad M. Swartz, Ph.D., M.D., Professor of Psychiatry at Chicago Medical School, "While neuroleptics relieve psychotic anxiety, their tranquilization blunts fine details of personality, including initiative, emotional reactivity, enthusiasm, sexiness, alertness, and insight. ... This is in addition to side effects, usually involuntary movements which can be permanent and are hence evidence of brain damage" (Behavioral and Brain Sciences, March 1984, Vol. 7, pp. 37-38). A report in 1985 in the Mental and Physical Disability Law Reporter indicates courts in the United States have finally begun to consider involuntary administration of the so-called major tranquilizer/antipsychotic/neuroleptic drugs to involve First Amendment rights "Because...antipsychotic drugs have the capacity to severely and even permanently affect an individual's ability to think and communicate" ("Involuntary medication claims go forward", January-February 1985, p. 26 - emphasis added). In Molecules of the Mind: The Brave New Science of Molecular Psychology, Professor Jon Franklin observed: "This era coincided with an increasing awareness that the neuroleptics not only did not cure schizophrenia - they actually caused damage to the brain. Suddenly, the psychiatrists who used them, already like their patients on the fringes of society, were suspected of Nazism and worse" (Dell Pub. Co., 1987, p. 103). In his book Psychiatric Drugs: Hazards to the Brain, psychiatrist Peter Breggin, M.D., alleges that by using drugs that cause brain damage, "Psychiatry has unleashed an epidemic of neurological disease on the world" one which "reaches 1 million to 2 million persons a year" (op. cit., pp. 109 & 108). In severe cases, brain damage from neuroleptic drugs is evidenced by abnormal body movements called tardive dyskinesia. However, tardive dyskinesia is only the tip of the iceberg of neuroleptic caused brain damage. Higher mental functions are more vulnerable and are impaired before the elementary functions of the brain such as motor control. Psychiatry professor Richard Abrams, M.D., has acknowledged that "Tardive dyskinesia has now been reported to occur after only brief courses of neuroleptic drug therapy" (in: Benjamin B. Wolman (editor),The Therapist's Handbook: Treatment Methods of Mental Disorders, Van Nostrand Reinhold Co., 1976, p. 25). In his book The New Psychiatry, published in 1985, Columbia University psychiatry professor Jerrold S. Maxmen, M.D., alleges: "The best way to avoid tardive dyskinesia is to avoid antipsychotic drugs altogether. Except for treating schizophrenia, they should never be used for more than two or three consecutive months. What's criminal is that all too many patients receive antipsychotics who shouldn't" (Mentor, pp. 155-156). In fact, Dr. Maxmen doesn't go far enough. His characterization of administration of the so-called antipsychotic/anti-schizophrenic/major tranquilizer/neuroleptic drugs as "criminal" is accurate for all people, including those called schizophrenic, even when the drugs aren't given long enough for the resulting brain damage to show up as tardive dyskinesia. The author of the Preface of a book by four physicians published in 1980, Tardive Dyskinesia: Research & Treatment, made these remarks: "In the late 1960s I summarized the literature on tardive dyskinesia ... The majority of psychiatrists either ignored the existence of the problem or made futile efforts to prove that these motor abnormalities were clinically insignificant or unrelated to drug therapy. In the meantime the number of patients affected by tardive dyskinesia increased and the symptoms became worse in those already afflicted by this condition. ... there are few investigators or clinicians who still have doubts about the iatrogenic [physician caused] nature of tardive dyskinesia. ... It is evident that the more one learns about the toxic effects of neuroleptics on the central nervous system, the more one sees an urgent need to modify our current practices of drug use. It is unfortunate that many practitioners continue to prescribe psychotropics in excessive amounts, and that a considerable number of mental institutions have not yet developed a policy regarding the management and prevention of tardive dyskinesia. If this book, which reflects the opinions of the experts in this field, can make a dent in the complacency of many psychiatrists, it will be no small accomplishment" (in: William E. Fann, M.D., et al., Tardive Dyskinesia: Research & Treatment, SP Medical & Scientific). In Psychiatric Drugs: Hazards to the Brain, psychiatrist Peter Breggin, M.D., says this: "The major tranquilizers are highly toxic drugs; they are poisonous to various organs of the body. They are especially potent neurotoxins, and frequently produce permanent damage to the brain. ... tardive dyskinesia can develop in low-dose, short-term usage... the dementia [loss of higher mental functions] associated with the tardive dyskinesia is not usually reversible. ... Seldom have I felt more saddened or more dismayed than by psychiatry's neglect of the evidence that it is causing irreversible lobotomy effects, psychosis, and dementia in millions of patients as a result of treatment with the major tranquilizers"(op. cit., pp. 70, 107, 135, 146).
Psychiatry professor Richard Abrams, M.D., has pointed out that "Tricyclic Antidepressants...are minor chemical modifications of chlorpromazine [Thorazine] and were introduced as potential neuroleptics" (in: B. Wolman, The Therapist's Handbook, op. cit., p. 31). In his book Psychiatric Drugs: Hazards to the Brain, Dr. Breggin calls the so-called antidepressants "Major Tranquilizers in Disguise" (p. 166). Psychiatrist Mark S. Gold, M.D., has said antidepressants can cause tardive dyskinesia(The Good News About Depression, Bantam, 1986, p. 259).
Why do the so-called patients accept such "medication"? Sometimes they do so out of ignorance about the neurological damage to which they are subjecting themselves by following their psychiatrist's advice to take the "medication". But much if not most of the time, neuroleptic drugs are literally forced into the bodies of the "patients" against their wills. In his book Psychiatric Drugs: Hazards to the Brain, psychiatrist Peter Breggin, M.D., says "Time and again in my clinical experience I have witnessed patients driven to extreme anguish and outrage by having major tranquilizers forced on them. ... The problem is so great in routine hospital practice that a large percentage of patients have to be threatened with forced intramuscular injection before they will take the drugs".